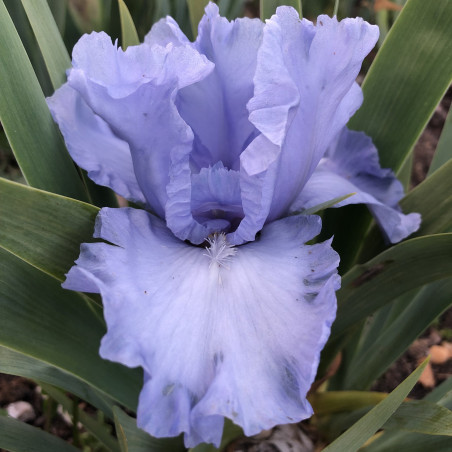  
Fathom
Intermediate Bearded Iris 58cm.
A true blue Intermediate iris with wonderful scent for the front of the garden border, or in a vase.
Mid to Late Season flowering, May and June in the UK.
Pronounced Spicy Fragrance.
Delicately ruffled mid blue Self blooms. 
Hybridised by Marky Smith in 1996 from Home Port X Gatty (Fly to Vegas x Swirling Seas).
We first saw this stunning iris at Terry and Barbara's nursery in Vancouver 'Aitken's Salmon Creek Garden' in the late '90's.
Receiving an Honourable Mention in 1999 and Award of Merit in 2002.

2022 Season now Open.
Orders shipped in September.
(Marky Smith, R. 1996) Sdlg. 90-28C. IB, 23" (58 cm), MLS. clear medium violet blue (RHS 97A); style arms lighter (97C), tinted mauve, midrib deeper (97A); F. violet blue (97B to 92B); beards medium grey blue, yellow orange in throat; ruffled; pronounced spicy fragrance. Home Port X Gatty R36-1: (Fly to Vegas x Swirling Seas). Aitken's Salmon Creek 1997. HM 1999, AM 2002.
Data sheet
Height

Intermediate - 40-70cm

Colour

Blue

Fragrance

Pronounced Spicy

Season

Mid-Late

Rebloomer

No
Customers who bought this product also bought: