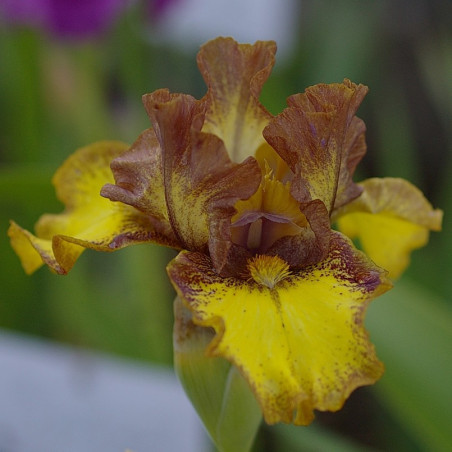  
Witty
Intermediate Bearded Iris 66cm.
"Excellent in all respects" (Richard Cayeux). High praise indeed!
Early to Mid Season flowering, May and June in the UK.
Pronounced Sweet Fragrance.
Cream standards with wide mid brownish tan plicata bands. Bright yellow falls with brown plicata marked hafts blending to mid tan plicata bands. The beards are white with gold tips.
Hybridised by Paul Black in 2011 from multiple crosses.
Receiving an Honourable Mention in 2015.

2022 Season now Open.
Orders shipped in September.
(Paul Black, R. 2011) Sdlg. Q58D. IB, 26" (66 cm), E-MS. butter yellow center with mid tan plicata veins, dots and rib, wide saddle tan band; style arms gold crest and ridge, ecru edges; F. mid yellow, hafts heavily sanded and veined mid chestnut, ¾˝ tan band around lower ²⁄₃, variable application of tan dotted plicata veins inside band and line from beard about halfway down; beards based white, tipped old gold; pronounced sweet fragrance. Blackberry Tease X O292: (L223B: (Brash x Pink Frosting) x M254C: (J402B: (F252BB: (Tweety Bird x Oregold) x F227BB: (Shy Violet x Sigh)) x Amusing)). Mid-America 2012. HM 2015.
Data sheet
Height

Intermediate - 40-70cm

Colour

Brown
Yellow

Fragrance

Pronounced Sweet

Season

Early-Mid

Rebloomer

No
Customers who bought this product also bought: