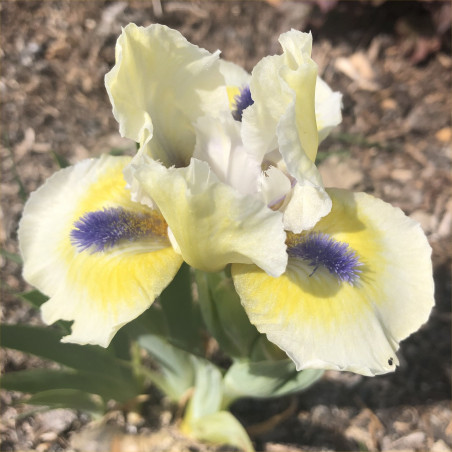  
A Little Good News
Standard Dwarf Bearded Iris 30cm.
Late Season flowering, mid May and June in the UK.
Sweet Fragrance.
Plant 2-3 in a shallow wide pot to take indoors when in flower and fill the house with scent.
Standards, style arms and falls are a milk white. A yellow spot on the falls. The beards are orange in the throat blue in middle and at the end.
Hybridised by Thomas Johnson in 2014 from multiple crosses.
Receiving an Honourable Mention in 2016.

2022 Season now Open.
Orders shipped in September.
(Thomas Johnson, R. 2014) Sdlg. TC270A. SDB, 12" (30 cm), LS. and style arms milk white; F. same with medium yellow spot; beards orange in throat, blue in middle and end; slight fragrance. TA145B: (Bluebeard's Ghost x TX100A: (Fusspot x TU323A: (Stormy Circle x Investor))) X Amorous Duet. Mid-America 2014. HM 2016.
Data sheet
Height

Standard Dwarf - 20-38cm

Colour

White
Yellow

Fragrance

Sweet

Season

Late

Rebloomer

No
Customers who bought this product also bought: