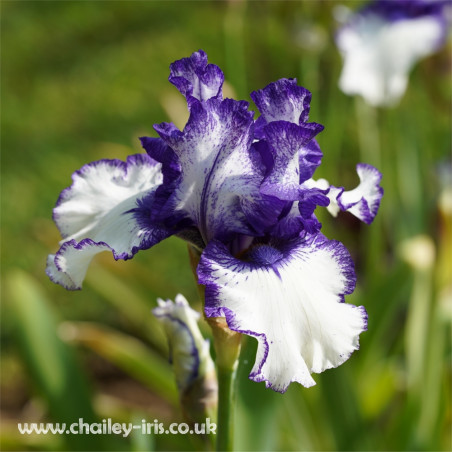  
Charleston
Tall Bearded Iris 107cm.
Mid season flowering, May and June in the UK.
Stunning ruffled and laced purple white plicata flowers. White standards with 1cm royal purple edges, white falls with narrower dark purple edges. Blue-white beard, light yellow in throat.
Introduced by Keith Keppel in 2002 from Gallant Rogue, April Melody Rustic dance and others. Parent of Barbados, High Octane, Rare View and others.
Honourable Mention 2003, Award of Merit 2006

2022 Season now Open.
Orders shipped in September.
(Keith Keppel, R. 2002) Sdlg. 92-47E. TB, 42" (107 cm), M. S. white, 3/4" royal purple (M&P 43-J-10) edge; style arms roman purple (44-JK-10), buff edge in throat; F. white, 1/2" darker purple (44-L-12) edge; beards blue white, light yellow in throat; ruffled, laced. 89-80B: (Gallant Rogue x (Foreign Accent sib x (((Flamenco sib x (Roundup sib x April Melody)) x Gigolo sib) x Rustic Dance))) X 88-40A, pollen parent of Storm Track. Keppel 2002. HM 2004, AM 2006.
Data sheet
Height

Tall - 70-100cm

Colour

Purple
White

Fragrance

None

Season

Mid

Rebloomer

No
Customers who bought this product also bought: