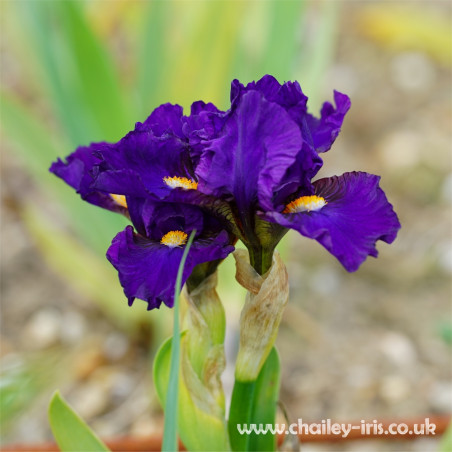  
Bright Flash
Standard Dwarf Bearded Iris 36cm.
Plant Dwarfs in a shallow bowl and bring indoors to enjoy the scent.
Late Season flowering, June in the UK.
Pronounced Spicy Fragrance.
Iridescent ruffled purple blooms. White beards tipped bright yellow.
Hybridised by Paul Black in 2005 from multiple crosses.

2022 Season now Open.
Orders shipped in September.
(Paul Black, R. 2005) Sdlg. J344C. SDB, 14" (36 cm), LS. iridescent purple, veined darker blue-purple; style arms purple, darker blue-purple rib; F. metallic purple, darker blue-purple veining around outer ¹⁄₃; beard hairs white at base, bright yellow-gold upper ²⁄₃; ruffled; pronounced spicy fragrance. E127AA: (Time to Shine x 91294A: (Tangerine Tangent x 85-306A: (Apricot Elf x 83-129A: (Melon Honey x unknown) x 86-327A: (83-129D x 84-238G: (Oriental Blush x Sniffs 'n' Sneezes))) X Rebus)) X Rebus. Mid-America 2005.
Data sheet
Height

Standard Dwarf - 20-38cm

Colour

Purple

Fragrance

Pronounced Spicy

Season

Late

Rebloomer

No
Customers who bought this product also bought: