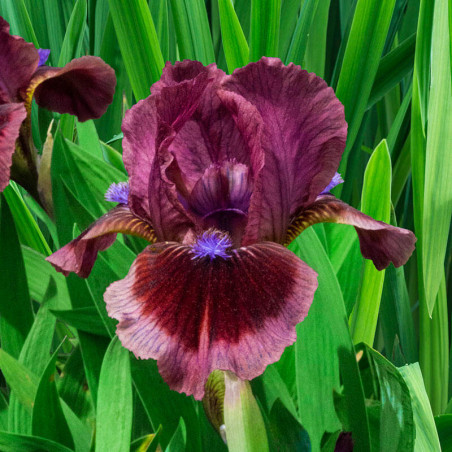  
Cat's Eye
Award Winning Standard Dwarf Bearded Iris 38cm.
Mid Season flowering, May and June in the UK.
Spicy Fragrance.
Rose coloured standards. Dark red textured falls, veined black with a wide rose band. Gold beards, violet at the base.
Hybridised by Paul Black in 2002 from Snugglebug X Buddy Boy. 
Receiving an Honourable Mention in 2004, Award of Merit in 2006 and the coveted Cook-Douglas Medal, the highest award for a SDB in 2008.

2022 Season now Open.
Orders shipped in September.
(Paul Black, R. 2002) Sdlg. H238CC. SDB, 15" (38 cm), MS. and style arms mauve rose; F. dark red texture-veined black, wide mauve rose band; beards old gold, violet base; slight spicy fragrance. Snugglebug X Buddy Boy. Mid-America 2002. HM 2004, AM 2006, Cook 2008.
Data sheet
Height

Standard Dwarf - 20-38cm

Colour

Purple

Fragrance

Spicy

Season

Mid

Rebloomer

No
Customers who bought this product also bought: