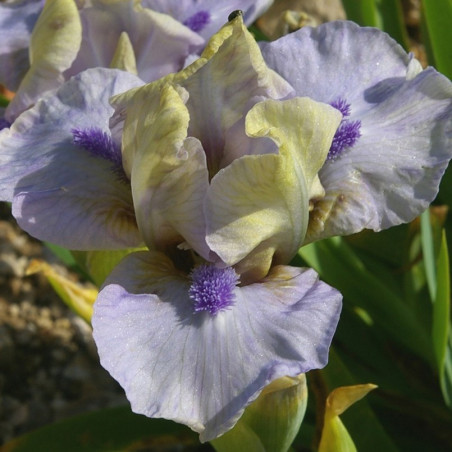  
Dime
Standard Dwarf Bearded Iris 38cm.
Plant in pots and bring indoors to fill the room with scent, or on a rockery to add another dimension.
Mid Season flowering, May and June in the UK.
Pronounced Spicy Fragrance.
Pale yellow standards, pale lavender falls with dark blue indigo beards. 
Hybridised by Paul Black in 2005 from (Spin Again x (Jade Jewels x Chanted)) X (Shy Violet x Sigh).
We first saw this superb pastel iris at Paul's own nursery in Oregon.
Receiving an Honourable Mention in 2007 and an Award of Merit in 2009.

2022 Season now Open.
Orders shipped in September.
(Paul Black, R. 2005) Sdlg. J386C. SDB, 15" (38 cm), MS. pale slate-violet, washed pale greenish-brass; style arms and F. light slate-blue, F. have soft tan-brown blended veins on each side of beard; beards completely saturated dark indigo; pronounced spicy fragrance. F233CC: (Spin Again x D124A: (Jade Jewels x Chanted)) X F227BB: (Shy Violet x Sigh). Mid-America 2005. HM 2007, AM 2009.
Data sheet
Height

Standard Dwarf - 20-38cm

Colour

Purple
Yellow

Fragrance

Pronounced Spicy

Season

Mid

Rebloomer

No
Customers who bought this product also bought: