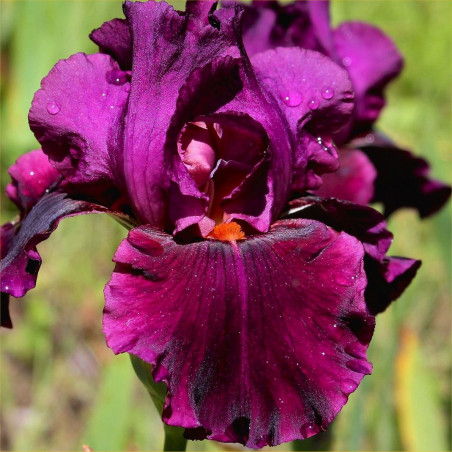  
Cherry Glen
Tall Bearded Iris 97cm. One of our favourite introductions from the US.
Early to Mid Season flowering, May and June in the UK.
Pronounced Spicy Fragrance.
Ruffled Bitone blooms. Red violet maroon standards, and velvety falls. Orange beards.
Hybridised by William Maryott in 1994 from Mariachi Music X Twice Told.
Receiving an Honourable Mention in 1997.

2022 Season now Open.
Orders shipped in September.
(William Maryott, R. 1994) Sdlg. S195A. TB, 38" (97 cm), EM. Ruffled red violet maroon (RHS 74A), F. more velvety; beards orange, prominent; spicy fragrance. Mariachi Music X Twice Told. Maryott 1995. HM 1997.
Data sheet
Height

Tall - 70-100cm

Colour

Purple
Red

Fragrance

Pronounced Spicy

Season

Early-Mid

Rebloomer

No
Customers who bought this product also bought: