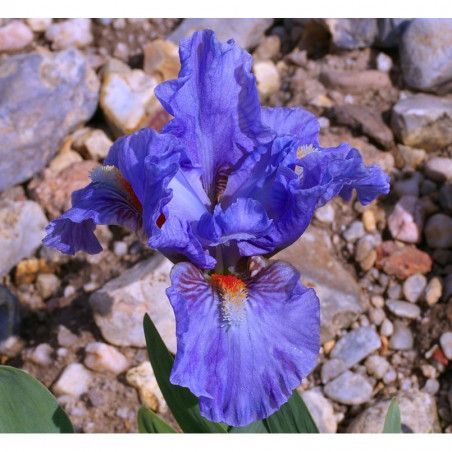  
Fires of Fiji
Award Winning Standard Dwarf Bearded Iris 28cm.
Mid Season flowering, May and June in the UK.
Musky Fragrance.
Medium blue Self blooms with darker veining in the throat and hafts. Dark orange beards blue white at the ends.
Hybridised by Paul Black in 2002. 
This bright dwarf caught our eye at Paul's nursery Mid-America Garden in Oregon, we couldn't leave it behind. I forgot to ask about it's name however!
Receiving the coveted Cook-Douglas Medal in 2011 for the best SDB iris, as well as an Honorable Mention and an Award of Merit.

2022 Season now Open.
Orders shipped in September.
(Paul Black, R. 2002) Sdlg. I225I. SDB, 11" (28 cm), MMedium blue, F. with darker blue veining in throat and on haft; beards medium to dark orange, blue white at end, white base; slight musky fragrance. Sib to Cold Snap. Mid-America 2003. HM 2005, AM 2007, Cook 2011.
Data sheet
Height

Standard Dwarf - 20-38cm

Colour

Blue

Fragrance

Musky

Season

Mid

Rebloomer

No
Customers who bought this product also bought: