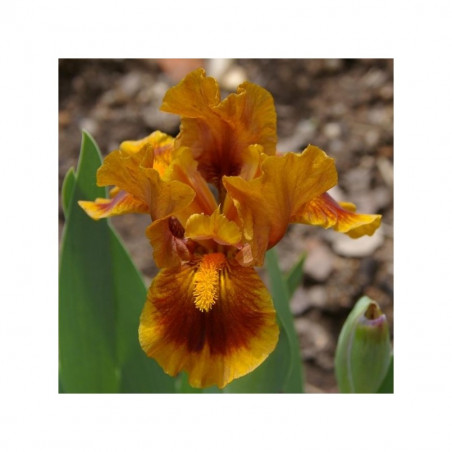  
Gingerbread Trim
Long flowering Standard Dwarf Bearded Iris 28cm.
Extremely rare in the UK.
This is just one of Paul's iris that we brought to the UK from Oregon, USA. Paul is a noted hybridiser who has been creating quality irises for over 40 years. 
Early, Mid and Late Season flowering, May, June and even into early July in the UK.
Pronounced Sweet Fragrance.
Stunning little Bi-colour. Coppery standards with gold edges. The falls are rusty butterscotch with a big oxblood red spot. The beards are orange to gold.
Hybridised by Paul Black in 2006 from Zap X Minidragon.

2022 Season now Open.
Orders shipped in September.
(Paul Black, R. 2006) Sdlg. L328B. SDB, 11" (28 cm), EMLS. medium brown-plum, old gold edge; style arms old gold; F. rusty butterscotch, big oxblood red spot over center half; beards orange gold in throat, gold in middle, yellow gold at end; pronounced sweet fragrance. Zap X Minidragon. Mid-America 2006. HM 2008.
Data sheet
Height

Standard Dwarf - 20-38cm

Colour

Brown
Orange
Red

Fragrance

Pronounced Sweet

Season

Early-Mid-Late

Rebloomer

No
Customers who bought this product also bought: