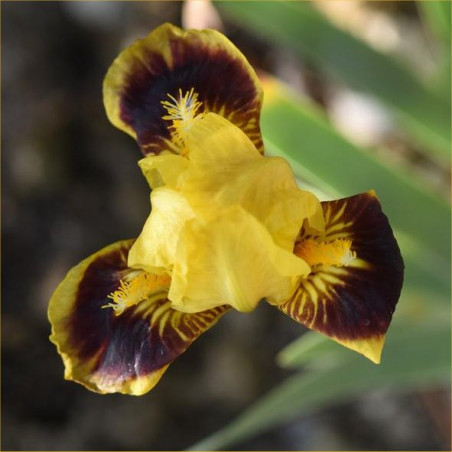  
Hot
Standard Dwarf Bearded Iris 33cm, with a long flowering period.
Early to Late Season flowering, May and June in the UK. Re blooming in the autumn, which is not a trait of many SDB iris.
Pronounced Sweet Fragrance.
Bright yellow standards above rich red falls edged bright yellow and yellow beards.
Hybridised by Monty Byers in 1989 from Sunstrip X Frankincense.
Receiving an Honourable Mention in 1994.

2022 Season now Open.
Orders shipped in September.
(Monty Byers, R. 1989) Sdlg. G9-101. SDB, 13" (33 cm), E-L & RES. bright yellow gold; F. rich red brown, edged bright yellow gold; yellow beard; pronounced sweet fragrance. Sunstrip X Frankincense. Moonshine Gardens 1991. HM 1994.
Data sheet
Height

Standard Dwarf - 20-38cm

Colour

Red
Yellow

Fragrance

Pronounced Sweet

Season

Early-Mid-Late

Rebloomer

Yes
Customers who bought this product also bought: