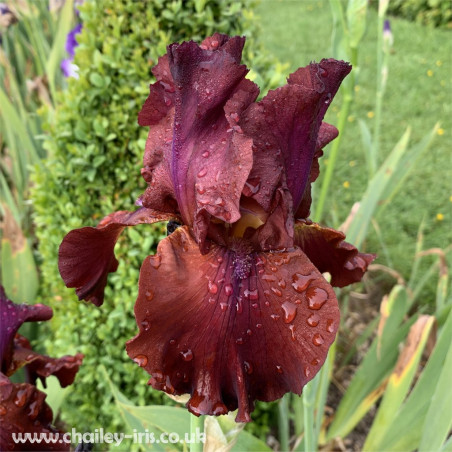  
Classic Bordeaux
Very Tall Bearded Iris 107cm. Introduced and Exclusive to Chailey Iris Garden in the UK.
Early to Mid Season flowering, May and June in the UK.
Dark burgundy red blooms. Plum beards with orange in the throat.
Hybridised by Richard Ernst 1996 from (Danger x Chief Hematite) X Shaniko.
Receiving an Honourable Mention in 1999.

2022 Season now Open.
Orders shipped in September.
(Richard Ernst, R. 1996) Sdlg. JF102-4-20. TB, 40" (107 cm), EM. S. dark burgundy red, washed plum, lighter toward base; style arms burgundy red; F. dark burgundy red washed cherry; beards plum at end, burgundy red midsection, orange in throat; ruffled. F102-4: (Danger x Chief Hematite) X Shaniko. Cooley 1996. HM 1999.
Data sheet
Height

Tall - 70-100cm

Colour

Red

Fragrance

None

Season

Early-Mid

Rebloomer

No
Customers who bought this product also bought: