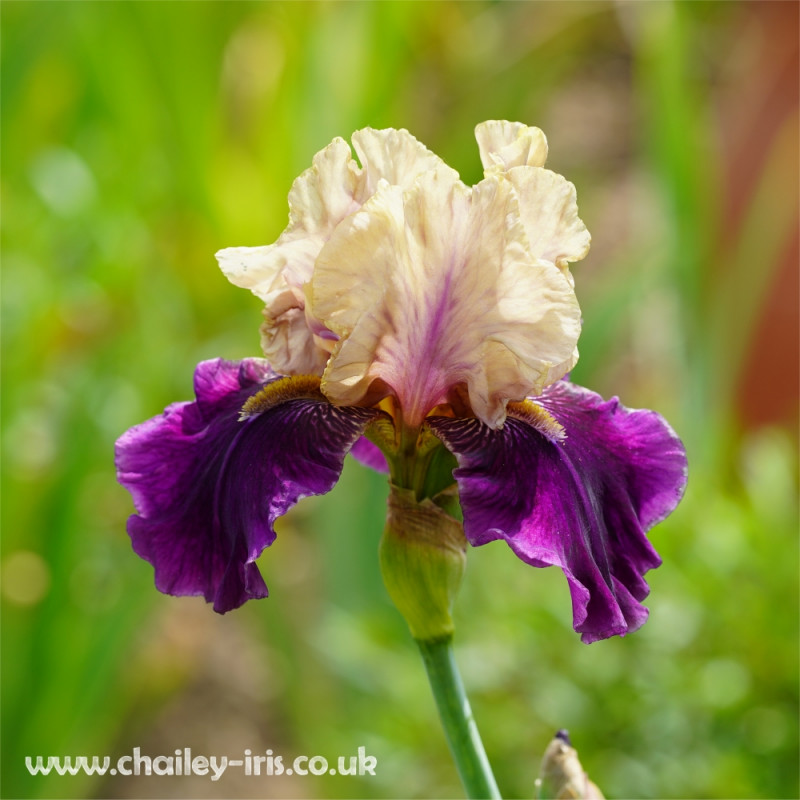  
Comanche Drums
Tall Bearded iris 94cm. Exclusive UK introduction by Chailey Iris Garden.
Early-Mid-Late,Very Late season bicolour flowers in champagne and violet.
Dark champagne standards with deep violet falls flushed violet toward edge with purple-red midrib. Brassy yellow beards.
Introduced by Chet Tompkins in 1985 from Cimbar, Treasure Key, Licorice Stick and others. Antecedent of Gypsy Mystic and White Hat Hero.

** 2023 Orders are now CLOSED **
NEW ORDERS WILL BE SHIPPED IN AUTUMN 2024
C. Tompkins, R. 1985) Sdlg. 79-43A. TB, 37" (94 cm), EM-VLS. dark champagne; F. deep red violet, flushed violet toward edge, purple red midrib; brassy beard; lightly ruffled. 77-16: (Cimbay x Treasure Key) X 77-48: (Cimbay x ((Camelot Rose x Licorice Stick) x Latin Lover)). Cooley's Gardens 1985.
Data sheet
Height

Tall - 70-100cm

Colour

Cream
Purple

Fragrance

None

Season

Early-Mid-Late,Very-Late

Rebloomer

No
Customers who bought this product also bought: