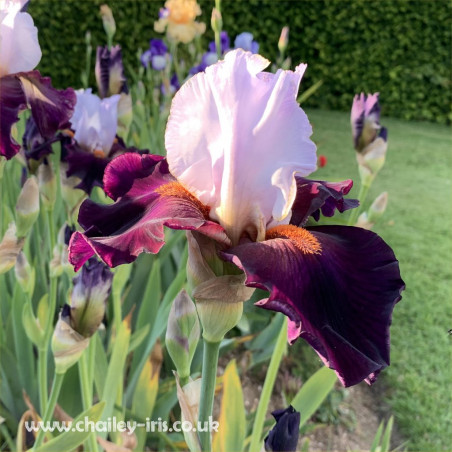  
Connection
Tall Bearded Iris 91cm. A very showy bloom that will catch the eye of garden admirers.
Mid to Late Season flowering, May and June in the UK.
Ruffled pale blue-white standards with yellow-style arms. Purple falls with red blended shoulders, the beard is also red.
Hybridised by Joseph Ghio in 1999, sibling to Snowed In. 
Receiving an Honourable Mention 2002.
Joseph has announced his retirement (March 2019), after a long award-winning career. Sad, but happy for Joe at the same time.

2021 Season now Closed.
New orders shipped in September 2022.
(Joseph Ghio, R. 1999) Sdlg. 93-90P2. TB, 36" (91 cm), ML. S. blue white; style arms yellow; F. purple, shoulders blended with red; beards red. Sib to Snowed In. Bay View 2000. HM 2002.
Data sheet
Height

Tall - 70-100cm

Colour

Purple
White

Fragrance

None

Season

Mid-Late

Rebloomer

No
Customers who bought this product also bought: