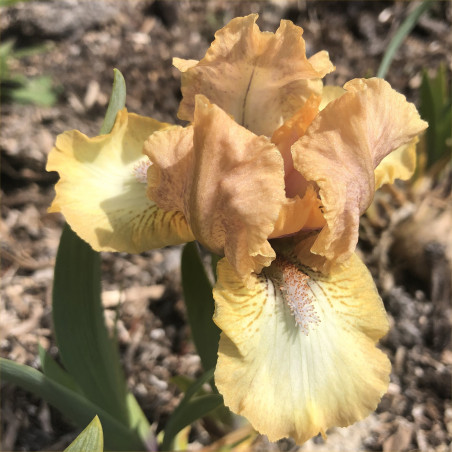  
Cute or What
Standard Dwarf Bearded Iris (36cm) brought to the UK by Chailey Iris from the USA.
Exquisite Mid Season. May to June in the UK.
Plicate blooms. Both the standard and style arms are apricot with white falls edged in apricot. The beard is blue with a tangerine base. 
One of the introductions by the famous David Niswonger (President of the American Iris Society) in 1996 from Oriental Blush ,Tillie and Chanted crosses.
Winner of Cape Iris 1997.

2022 Season now Open.
Orders shipped in September.
(O. D. Niswonger, R. 1996) Sdlg. SDB 3-94. SDB, 14" (36 cm), MS. and style arms apricot; F. white, edged apricot; beards blue, tangerine base. SDB 24-91: (SDB 27-87: (Oriental Blush x unknown) x Tillie) X Chanted. Cape Iris 1997.
Data sheet
Height

Dwarf - 26-40cm

Colour

Cream
Orange
Pink

Fragrance

None

Season

Mid

Rebloomer

No
Customers who bought this product also bought: