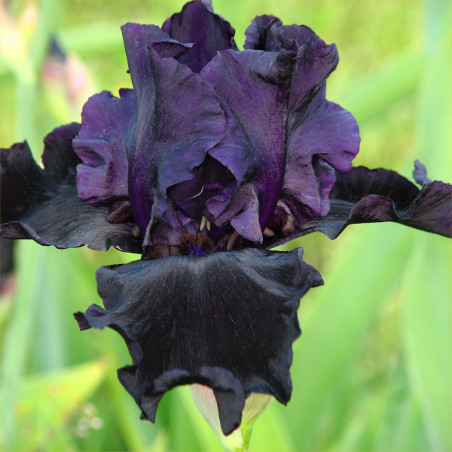  
Dark Passion
Tall Bearded Iris 89cm.
Mid Season flowering, May and June in the UK.
Pronounced sweet fragrance.
Stunning ebony black velvety Ruffled Self bloom.
Hybridised by Schreiner in 1998 from a mind blowing number of crosses that are listed on the Description Tab.
Receiving an Honourable Mention in 2001.

2021 Season now Closed.
New orders shipped in September 2022.
(Schreiner, R. 1998) Sdlg. CC 270-1. TB, 35" (89 cm), MEbony black (RHS 202A to 103A) self; beards black; lightly ruffled; pronounced sweet fragrance. AA 327-B: (Back in Black x Midnight Dancer) X W 484-2: (T 329-A: (((((Broadway Star x Whole Cloth) x Blue Mountains) x (Toll Gate x After Dark)) x ((Dream Time x ((Alpenrose x Anthem) x Gracie Pfost)) x (Skywatch x (Amethyst Flame x Silvertone)))) x (Master Touch x ((((Alpenrose x Anthem) x (Amethyst Flame x Melodrama)) x ((Alpenrose x Brigadoon) x (Amethyst Flame x Melodrama))) x Rondo))) x T 435-C: (Swazi Princess x Darkside sib)). Schreiner 1998. HM 2001.
Data sheet
Height

Tall - 70-100cm

Colour

Black

Fragrance

Pronounced Sweet

Season

Mid

Rebloomer

No
Customers who bought this product also bought: